Thérèse Martin was born on January 2, 1873, in France. After their mother died, her two older sisters, Pauline and Marie, entered the Carmelite convent of Lisieux. These losses plunged young Thérèse into an emotional illness from which she was miraculously cured by the "Smiling Virgin" Mary. Early on, Thérèse dreamed of becoming a Carmelite nun like her sisters. Her determination led to her being admitted at age 15. She took the name "Saint Thérèse of the Child Jesus and the Holy Face." The early days were difficult ones; she discovered the challenges of contemplative prayer and the austerity of the convent Rule. Beginning in 1894, she began to write her spiritual autobiography. In doing so she became aware of the Lord's mercy but also of her "littleness" before him. Thus was born her "little way," a path of trust and giving over of oneself to the mercy and love of Jesus.
When she was diagnosed with tuberculosis in 1896, Thérèse began "a dark night of the soul" – a time of great spiritual darkness and discouragement. And yet, her willingness to give continued: she always offered to do the least enjoyable tasks, which for her was a way to be "salt and light" in her community. As she faced death, she wrote, "I'm not really going to die. I'm just entering into another life." She died on September 30, 1897, after suffering much agony. During this time of suffering she said, "I feel as if my mission is about to begin… I want to spend Eternity in Heaven doing good here on earth."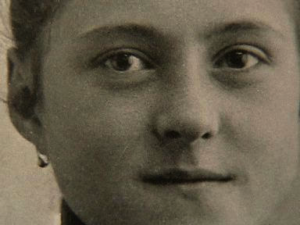 One year after her death, her spiritual autobiography was published and was a great international success. Although she was almost unknown when she was buried, her grave became a pilgrimage site and reports of miracles soon appeared. Beatified in 1923 and canonized in 1925, Thérèse was also named "Patron of the Missions."
At World Youth Day 1997 in Paris, Pope John Paul II announced that he would name Thérèse "Doctor of the Universal Church" because of the depth of her spiritual writings.
Later that year on 
October 19, 1997, Mission Sunday
, Pope John Paul II proclaimed St. Thérèse of Lisieux the third female Doctor of the Church, joining Sts. Teresa of Avila and Catherine of Siena who were proclaimed in 1970 by Pope Paul VI. Until 1970, there were 32 doctors of the Church, all of them men. As the youngest theologian of the church, her writings and life emphasized the love of Jesus and the mercy of God. In his moving homily, Pope John Paul II said:
She was not able to attend a university, nor frequent organized studies. She died young, and yet today, she will be hounoured as doctor, an eminent recognition which raises her in the consideration of the entire Christian community, well beyond what 'an academic title' could have done. Among the Doctors of the Church, Thérèse of the Child Jesus and the Holy Face, is the youngest, but her spiritual path is so mature and ardent… The intuitions of faith present in her writings are so vast and profound, as to have earned her a place among the great masters of the spirit.

In a rationalistic culture, one too often permeated by practical materialism, she suggested, with disarming simplicity 'the little path' which, retracing the basics of things, leads to the secret of every existence: the Divine Charity which surrounds and permeates every human affair. In a time like ours, marked in so many of its aspects by the culture of the ephemeral and by hedonism, this new doctor of the church appears gifted with a singular efficacy in enlightening the mind and heart of those who are thirsting for truth and love.
It is not for the honor of Thérèse that we celebrate her doctorate, for she needs no honors. We need this distinction for our ourselves. As a doctor she heals us with her simple spirituality. By placing her in the doctor's chair and putting on her shoulders the doctor's gown, the church invites us all to sit at the feet of this astonishing young woman, to restudy the Gospel and be filled anew with its light.  Dr. Thérèse, Little Flower, heal us of all of our ills.  Pray for us.  Teach us to spend our time on earth doing good for others.